Google Chrome has proven to be the most productive browser for most web developers and marketers, followed by Firefox, which, in most cases will have very similar browser extensions and plugins to that of Chrome. There are now countless developments that aim to provide robust chrome extensions specifically for web developing, Social Media Marketing & SEO. But with the increasing number of extensions being released and updated every month, how do we know which ones are the best and most light-weight of their category?
We put dozens of Chrome Extensions to the test and in different combinations, in order to provide today's most productive chrome extensions for web development, SEO and social media marketing, starting with the general plugins:
Chrome Extensions by Google
For starters, these are the most general yet popular plugins for Chrome from Google that enable you to conveniently communicate straight from your browser bar.
10. YouTube
This extension will create an additional button below YouTube videos, which allows the direct conversion and download of any YouTube videos you may be viewing. This can be used from downloading marketing related YouTube documentaries for references on an offline meeting or simply to download mp3 versions of your favorite videos.
Deprecated: It seems this extension has been removed and nothing similar has been added to the webstore yet. Feel free to send in your alternative extension for this.
9. Gmail for Chrome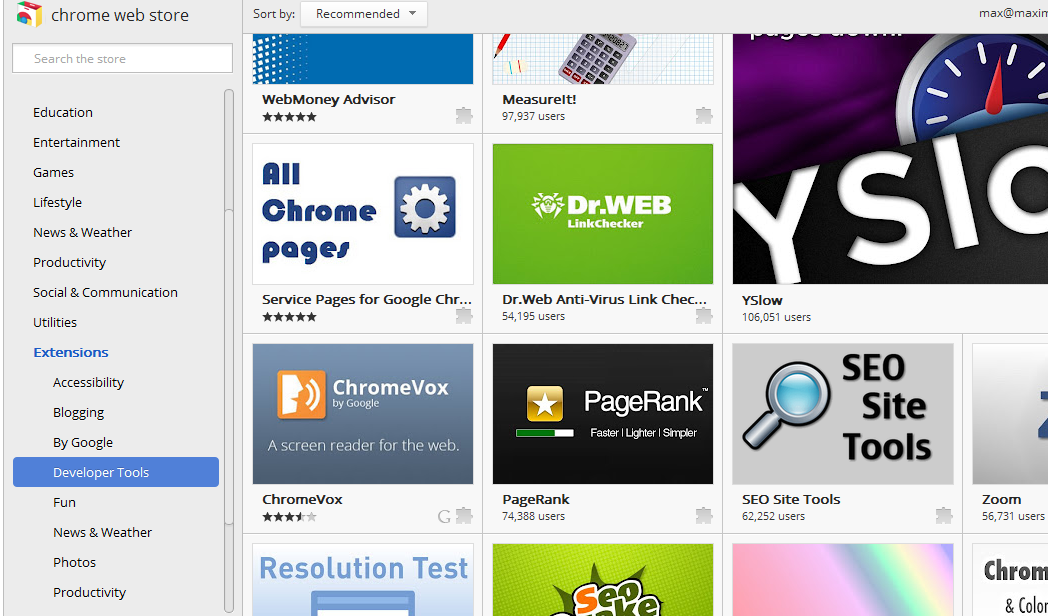 If you are a consistent Google Mail user then this plugin is a must-have. Keep track of your new mail from the browser bar without having to navigate to your Gmail page. Visit Extension Page
More Plugins by Google
There are countless more Google Chrome Plugins that aren't relevant to this post, but for those who use these Google Products, here would have been the continued list:
Chat for Google: This is an essential plugin for active Googler's who use GTalk, Gmail chat or Google Plus chat features. With this plugin, you can keep a chat box right on the browser and chat while surfing. Try GChat for Chrome
Google Voice (by Google): Similar to the Gmail Plugin, this extension will display incoming text messages and voice-mail's via your browser tab - a must have for Google Voice users. Google Voice Extension
Best Social Media Plugins for Chrome
In our second section of Best Plugins for Web Developers & Marketingwe list with a few noteworthy Chrome Social Media Extensions to make the lives of Social Media Marketing managers significantly easier.
8. Twitter Buffer Extension for Chrome
For those that aren't familiar with buffer, it's a Twitter Browser Extension that allows you to 'Add a Tweet to Buffer' in addition to the traditional tweet button. Tweets added to 'Buffer' will be tweeted for you after certain time intervals to avoid the typical 'instant' tweet. A must have for power tweeters. Twitter Buffer Extension Page
7. G++ Google Plus Extension
If you actively use your Twitter, Facebook and Google+ profiles for social media marketing or just like to keep track of all three social networks, you may want to take advantage of this Google Plus Extension for Chrome. It enables you to view your Twitter and Facebook feeds and post to them directly from your Google Plus account - An amazing time saver. Go To G++ Website
More Social Media for Chrome
There are countless more Social Media extensions for Google Chrome out there, yet many that will be quite uninteresting for most web marketers. Nonetheless, we suggest AddThis for Chrome Plugin as a backup extension for all other social networks.
Web Development & Design Extensions
For Website Developers and SEO professionals, we arrive at the most juicy of all extensions. The below Developer Extensions & Plugins intend to save a essential hours in the SEO & HTML optimization process and are crucial to take advantage of.
6. W3C HTML Validator
There have been many plugins attempting to list the W3C Validator errors in a plugin window, but failed due to the limitations set by W3C. A temporary solution for this are a combination of two plugins, HTML Validation and W3C HTML5 & CSS3 Validator. The HTML Validation extension will provide with the error count, while the W3C HTML 5 extension will give you quick access to the error documentation pages on the W3C website. Check Extensions
5. Chrome Sniffer
Chrome Sniffer is a light-weight, subtle display script identifying extension. Basically, you can quickly see what CMS a website is running on, what scripts are active and more cool features.
Try Chrome Sniffer
4. Color Picker
This plugin is unbelievably useful for graphic and web designers. With just a click on the this plugin in your browser you can very accurately choose a color from anywhere in the browser and get the exact HTML hex color codes. Color Picker is very light and you will find it to be the best eye dropper tool available. Get This Extension
3. Screenshot for Chrome
This Chrome extension is one of the most useful and dynamic screenshot tool out there. Take a screenshot of a whole page, a section of a page you mark, crop, draw on and much more - directly from your browser. In fact, all the images on this post, have been done with this extension.
Try Screenshot for Chrome
Chrome SEO Extensions
To finalize, we filtered out the best Google Chrome extensions for Search Engine Optimization. Depending on your SEO research habits, your extension requirements for SEO may vary, but we believe that simplicity in these plugins are necessary. With that, the Chrome Inspect Element tool and with some solid SEO knowledge your browser will be sufficient to determine the status of any website.
2. SEO SERP
This plugin is an amazing time-saver to check search engine rankings for your website. No plugin of this type is perfect, as search engines do react differently towards these kind of tools, but this one does good enough at the time of this post. Try This Extension
1. PageRank Status
And finally, a light-weight SEO tool that will provide you with the most significant information of a Page on a website - its PageRank. The PR of the website displays instantly as you browse each page, which helps you determine which pages are indexed, stronger or weaker than others. And if you do need more information of the domain, a click on the plugin icon will bring up some more data - which for most today may be irrelevant information. PageRank Status
Summary of Best Chrome Extensions
Feel free to comment, contribute or suggest changes to this list, as I will make changes to keep this post up-to-date with recent plugins and extensions.